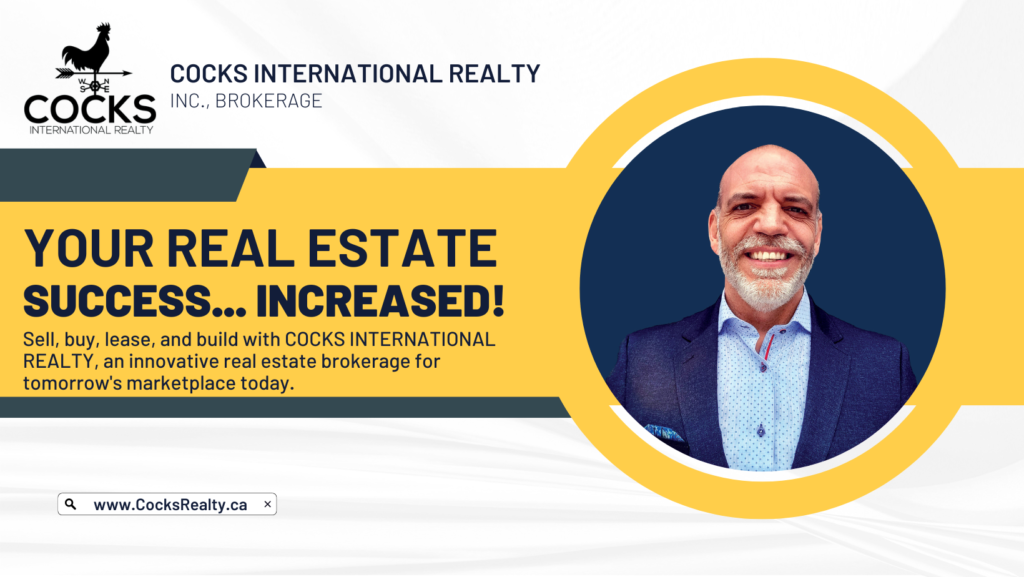 Cocks International Realty is a leading real estate brokerage in Muskoka, established in 2016. We are a full-service brokerage for residential, luxury, and commercial real estate transactions, with our office conveniently located in Utterson between Huntsville and Bracebridge. In 2023, we have our sights set on expanding our business by opening a new international office in Costa Rica.
As we grow, we remain dedicated to being a hyper-local business that is committed to our community and clients. Our team are residents of Muskoka, and we are passionate about giving back to the region we call home.
Our founder and owner, Andrew John Cocks, is a renowned 3rd generation real estate professional and the author of Your Million Dollar Lifestyle.
Whether you're looking for your dream home, condo, or cottage in the beautiful region of Muskoka, seeking a tranquil escape, or have an inspiring idea to start a successful business, we can guide you through the entire process with our expertise and in-depth local knowledge.
At Cocks International Realty Inc., Brokerage, we prioritize the quality of service, rather than quantity of inventory. We strive to offer outstanding service, fast response times, and attention to detail to our select clients from around the globe.
Why Cocks International Realty?
When was the last time you felt truly heard? At Cocks International Realty, we understand the importance of listening to our clients. Your needs, wants, and goals are at the forefront of everything we do.
Our team goes above and beyond to provide a superior client experience through effective communication, local expertise, and collaboration with our colleagues to offer a wide range of real estate services and properties in Muskoka.
At the core of our business are our values, which emphasize honesty, quality, value, and experience. Our ultimate goal is to enhance your life and our community through hard work, commitment, and attention to detail. Whether you are buying or selling real estate in Muskoka, our promise to you is:
Your Buying/Selling Experience
Our business is built on a superior client experience and word-of-mouth referrals, based on our international reputation for 5-star service.
We offer much more than fast response times and local expertise. Our extensive network allows us to find your ideal property, even if it's not widely advertised. We pay attention to all the details, such as the proximity of the property to your children's school, to ensure we meet all your needs.
Quality + Excellence
You'll notice the difference from the first time you contact us. We listen carefully to your needs and wants, ask the right questions, and send you all the relevant information quickly. We prioritize your needs above all else and ensure a seamless process.
One-Stop-Shop
At Cocks International Realty, we work closely with all local real estate companies to provide you with the widest selection of properties available. You only need to connect with us once, and we will take care of everything else.
Honesty + Integrity
At Cocks International Realty, honesty is our top priority. We provide full transparency, even if it means telling you some hard truths. This builds trust and ensures that your expectations are always accurate.
Fast Response Times
Prompt response times are a top priority for us. We understand that you may be browsing for your dream home at all hours, and we make it a point to provide you with the information you need by the end of the day, even if it means responding to your inquiry on a Saturday evening.
Community-Focused
Our company, Cocks International Realty, is rooted in a sense of community. Though we come from diverse backgrounds, we all share a love for the community we call home. As a company and as individuals, we are committed to giving back to our community through partnerships with local non-profits. We feel that the true value of money lies in our ability to use it for the greater good.
In 2022, our association contributed a total of $93,191 to support those in need. All local contributions were dispersed fairly across our jurisdiction, as per our Member Services Committee.
Every REALTOR® Campaign | $37,464
Supports local shelter-based charitable organizations
The Lakelands Annual Turkey Challenge | $37,825
Provides meals to families in need in our communities through local charities
Tragic Relief Fund to local Food Banks | $10,000
Allocated to environmental, health, humanitarian, or natural disasters
Silent Auction from Sale of Buildings (one-time) to local Food Banks | $5,402
Sold contents of our Collingwood and Huntsville buildings in preparation to go virtual
REALTORS Care® Motorcycle Ride | $500
Ontario REALTORS Care® Foundation, which supports local shelter-based charitable organizations
British Columbia Floods | $2,000
Supports those in need affected by the 2022 floods
Lasting Relationships
Building lasting relationships is one of our core values. We don't believe in simply selling you something and then disappearing. Instead, we strive to establish a relationship with you that goes beyond the transaction, one based on mutual trust and respect. As a team of experts with extensive knowledge of the local area, we are always ready and willing to help you navigate the real estate market.
Inclusion
Inclusion is another key value for us. We take pride in being an inclusive company that serves everyone without discrimination. We believe in treating all of our clients with the same level of respect and attention, regardless of their background or circumstances.
To learn about our CIR commitments and the areas where we operate, we suggest examining our Muskoka real estate listings for additional details.